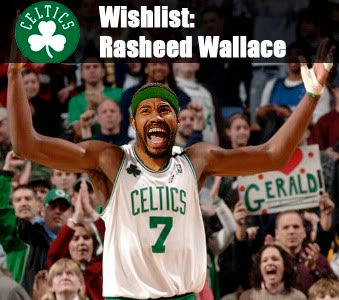 The biggest target on the C's wishlist Just came trough Sheed is now a Celtic! Welcome the Big 4!
An NBA source said tonight that Detroit free agent forward Rasheed Wallace has committed to sign with the Celtics on July 8 when free agents are able to sign. Wallace is expected to get a two-year deal using the mid-level exception (expected to be about $5.6 million to $5.8 million).
With the Mid level exception gone Big Baby is likely a goner. Things also look dim for leon. We're going to need another man at the post.