Space Food
To celebrate the 40
th
year of the first man on the moon, I figured out we'd try to do something geeky for a change.


I got this "Freeze Dried Ice cream" from the Smithsonian air and space museum back in Washington dc. The tour guide specifically recommended this one to us because she said this can only be bought here and other space museums.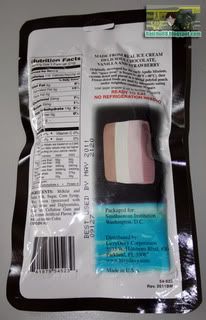 While I do recall seeing this back in my first trip to the Smithsonian way back in the spring of 2000,

Our time was way to limited to get a look and buy at this kind of stuff.




The product says it was "originally developed for the early Apolo Missions, This space treat is frozen to -40 F, then Vacuum dried and placed in a special polyfoil pouch. Freeze dried fruits re used by astronauts eating under weightless conditions in space."




The first time I thought of this, I was wondering if this is gonna be cold, is it made of edible dry ice or something. But then When I opened it, it looks like a dry, powdery candy. Like what dried Ice cream mixtures are, only this time solidified.




The Ice cream comes in 3 flavors, Chocolate, Vanilla and Strawberry. The taste is ok. It was not bad, but not great as well. It tastes like a cross between a polvoron (a Filipino food treat), merengue and ice cream. The best flavor out of the 3 is the strawberry.





Still, with the intruiging packaging it was a good tasting experience, How the astronauts back then eat their treats on low gravity conditions.