Mr. Nice Guy is My favorite player outside the Celtics. Yes, he spent most of his prime riding the bench with his ankle injury but he is a class act. The first of the Jordan "Hair apparents" Hill has proven in his time with the suns that he could come back to his often injured status. Coming off the bench, he wouldnt have so much pressure hence a lesser chance to be injured than his time with the suns. He also comes cheap and can be signed with the veterans minimum exception. Also, It would be good to end Grant's Career with a title, and with the Celtics at that.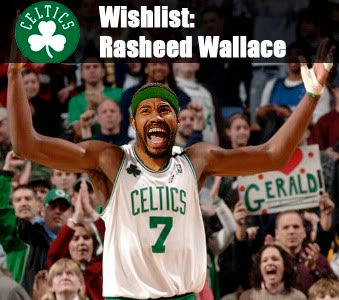 Rasheed Wallace: Of all the possible free agent signings, this guy is the biggest. Since the C's lack inside presence outside of Perk and KG, Last year's postseason injuries took a toll and exploited this weakness. The signing of mikki moore as the next PJ brown certainly did not help either.
The C's are planning to use the mid level exception on this guy. But then again, there are so many players on sheed's market, contenders like the cavs and spurs are also hot in pursuit. The C's staff and players are courting this guy. As of now he'll think of it a week before deciding.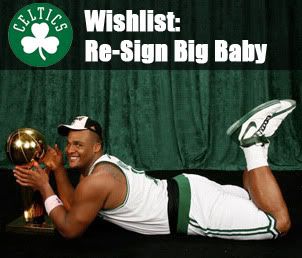 It took the Garnett and Powe Injury to really show the potential of bug baby davis, It did help us in the postseason, but it also did make things a bit harder for us now in the free agency. 4 teams are now interestsed in baby, the Pistons, Grizzlies, Knicks and spurs.
Either we get him or we get powe back, but powe will come off an injury and most likely be available in february. It will be a great loss if the C's dont sign him but we do have an insurance policy in powe.
Right Now, This one is a longshot. Marburry wants more money,which the C's certainly do not have right now. Though he did thank the team and the fans for playing here last season.