Last September 30,
The PBA launched its retro jersey
, with it came reproductions of the 25 greatest players in the league.Ever since PBA went into merchandising early in the decade, they had been clamored with requests on releasing retro jerseys. More than a decade later, it finally came true.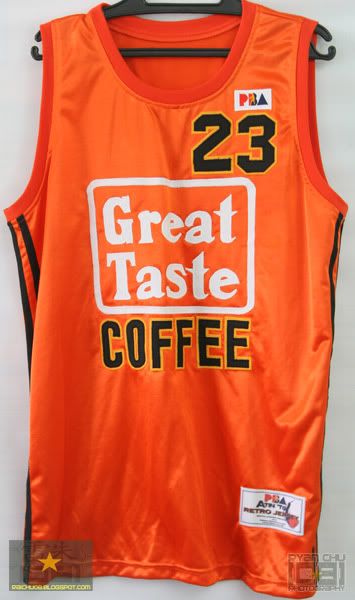 Planing to acquire something unique as opposed to regular popular and bandwagon teams, I settled for a Great Taste Discoverers Jersey of Ricardo Brown. Brown, a former Houston Rockets draft pick and PBA MVP. He played for Northern Cement, Great Taste and SMB . He is also probably one of the
friendliest PBA stars to ever grace into facebook
. The Orange/ Yellow/ Black seemed ahead of his time and one of the better looking jerseys during the launch. I would've prepared the beige one, but if there was one jersey that could redefine the quick brown fox's career, it is this one.
Style
The retro jersey follows the microshiny orange fabric for its base and cut outs for its detail. I was hoping they would do a separate backing for the great taste box logo but what they did is just a cutout border and text. The numbers look great though.
Layered cutout trims and labels do work in retro jerseys and this one gives it a "Mitchell and Ness" handmade feel as opposed to Nike/Adidas/ Reebok soul swingman and heritage NBA jerseys which just screen prints over one single cutout fabric hence makes it susceptible to fading after just a few washes.
While it didn't have the "Adidas Originals Trefoil logo" like seen in the original, it still retains the 3 stripes as a part of its side trim design.
Logos
This is my major gripe for this jersey. It shows the current PBA logo as opposed to the original one back in the 80s. In fairness, those logos rarely showed up on the jerseys back in the early days. A sublimated jock tag saying "PBA Atin to Retro Jersey" completes the design.
Sizes
There is only 1 size available which is a 48. Same size as the Accel PBA jerseys and a Large for the original NBA Jerseys.
Price
The Jersey sells for P 1,500 and is availablle by either through Jersey Haven and Titan fort branch. I do agree that they could've done more considering the price tag. Maybe an embroidered retro league patch and probably acquiring license from the original outfitter/ sponsor. But all in all, this is a great start and a big first step for the league especially at finally taking care of their rich heritage.