Today, we take a look at the Jerseys used for the PBA Blue vs. Green Dream game. The match featured Alumni PBA and former PBA players against each other at the big dome.
The Jerseys are head and shoulders above the ones used from the previous Ateneo La Salle dream game a few years back (those with yakult logos at the middle of the jerseys).
The design was done by my friend Rico Concepcion and produced by Jersey haven and Titan.I was able to get a Jersey for review purposes.
Fonts
The script was done with an old English font as most DLSU jerseys, Impact fonts for the jersey numbers and a tahoma like font for the names.
Cloth
What stands out here is the fabric that was used in order to make the jersey. Not only is it double lining, a unique kind of imported pinstiripe fabric is used for its outer fabric. it is done with 2 shades of green (or blue) with thickness around 3 inches. The pinstripes become clearly visible when the fabric absorbs the sweat. Sorta like a "Heat Check".
Watermark/ Aerographic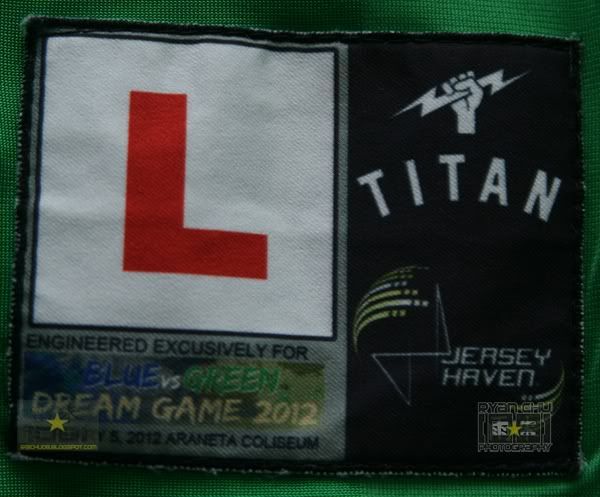 At the rear side lies an intricately placed watermark/ aerograhic detail at the back with the school's battle cry. Animo for DLSU and One Big Fight for ADMU.
A sublimated Jock tag tops it off for that Proffesional and Authentic Feel. Sublimated patches of sponsors can also be seen at the front.
Conclusion:
This is a welcome change for the traditional UAAP designs we see year after year. Rico, JHaven and Titan had done a good job not to bore loyal alumni and students unlike the last dream game's jersey designs. We look forward to more innovative designs like this in the future.