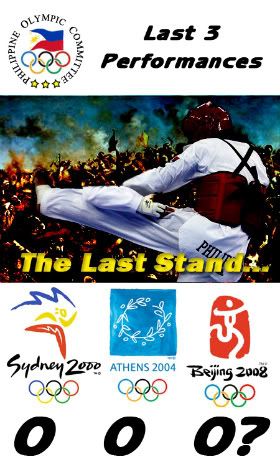 Sadly, Toni Rivero and Tsomlee go are the only pillars trying to prevent a third straight big fat zero for the Philippines. Rexel Fabrega is still there but as his Chinese coach made negative comments about his weight, looks like its a far cry from the medal.
After a Much anticipated media hype by sports officials regarding the possibility of a medal in their sports jurisdictions. Majority of the Philippine contingent fell one by one. Though in reality, the only medal bets for RP are Harry Tanamor, Tsomlee Go and Toni Rivero. The Smokin Nike Clad Harry, fell to an upset by a little known boxer from Ghana.
What is more sad is that Sports had slowly diappeared from the scene of national interest. Before, they can easily be seen on news even if it was just some of the daily basketball scores added by other international/ local sports news. Nowadays, Sports news that were a fixture of daily six o clock news shows are now rarely shown, only if there are special events, James yap kicks, Pacman training montages or an international sporting event like the sea games or nba finals. Sports have now been overshadowed by politics, showbiz news and socialite events.
Forget the Sea games Championships, The Record tying Gold medal haul in the Doha Asian Games, the Olympics is and should be the grandest stage of them all. The Country, knowing to perform bad in the quadrennial event, having only 9 medals in its 78 year participation. Notably it suffered two 12 year medal droughts from 1948 to 1960 and 1968 to 1984. It bounced back to 3 straight medals from 1988 to 1996 with its second silver medal courtesy of Onyok Velasco. The country also had won multiple medals in a single event only once in 1932.
So there it is, only 3 remain in the medal hunt. Two of them are slight favorites and one underdog. While this country only had its success when the prople are trained by non government institutions (Singing, pro boxing and billiards). Lets see if that turns around in the final stages of the games.