Off Season is once again here! and while we are waiting for the new season come on november 08, here's some new changes. These are from the teams that haven't changed their logo. As for the Oklahoma City Thunder (Formerly Seattle Supersonics) As of Presstime, it hasnt been confirmed if they would really be known as thunder.
Orlando has one of the best looking away jerseys last season, very simple, streamlined but looks really cool. But now, with their 20th anniversary, they have changed their uniforms once again, this time with a combination of the old and the new. With the design of their 90's duds. The cartoony magic number and their pinstripes (now changed to look less gaudy)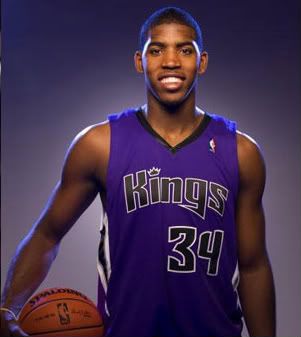 Sacramento Kings basically its the seriff on their home uniforms placed on their away uniforms. Looks more of a minor tweak rather than a major change.
Back in 96'-97the T wolves had one of the best looking duds in the league. Unlike the 2 other teams that changed their jerseys that season (the pistons and the jazz) Their's wasn't as gaudy and loud as the other two. In fact Detroit and Utah already changed their dud seasons ago when the graphic jersey trend went down. Their jersey was still one of the more popular designs as of date. However, with this season, it is going to change. The font is too small and the color scheme is too pale. The design is more suited for the Lynx rather than the T wolves. I'm also wondering if the tree pattern collar is really like that or is he wearing the old jersey underneath.
UPDATE: New Orleans hornets also changed their jerseys, basically the same colors, just both Home and away will now spell New orleans, a little bit of change in the font and Pinstripes! Looks Like pinstripes are back in the NBA.
Overall teams do change their Jerseys, it is a symbol of their ever evolving tradition and identity. Sometimes change for the better, sometimes for the worse. Trends do come and go, But the designs will grow on their fans and be able to accept it, Because in it, is the team's identity.