While browsing the web for new Dark of the Moon figures this figure caught my attention. A TF that does not only have my favorite color scheme, but carries my favorite number as well. I originally wanted to wait for the Human alliance version, but seeing that the deluxe class' Alt mode is a bit different from it's Human Alliance counterpart, I decided to pick this up from the shelf.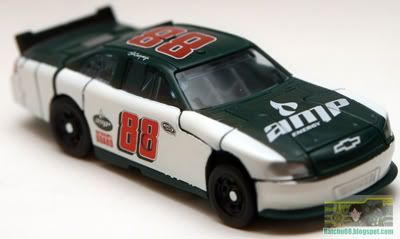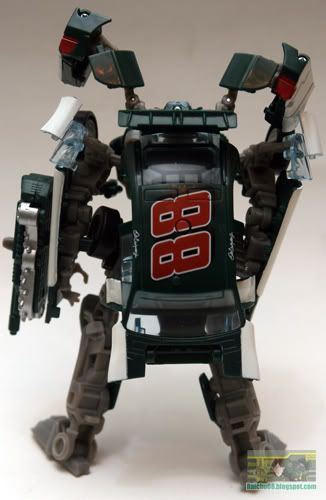 Paintjob
Basically the best thing going on the figure and why the NASCAR DoTM line is having all the hype. Roadbuster's alt mode does the job by having well detailed, perfectly placed decal jobs on the car. However, How great the paint job is on the alt mode is the opposite when it came to the Robot Mode. All the details came to waste with the bland gray plastic and the undetailed Missile pods.
Robot Mode
Roadbuster seems to be one of those Semi Shell formers with a big kibble on its back. Though the hood and roof detail seems to divert it from looking really bland. The Shoulder and Arm Kibble works as an armor and even the Missile pods give more of a badass look to the figure.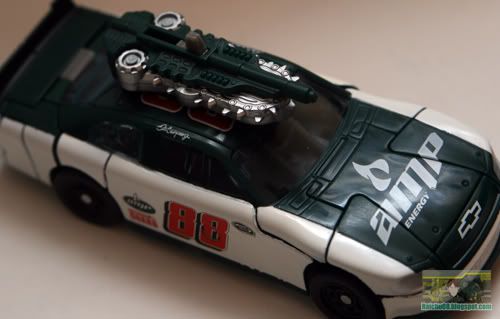 Alt Mode
Roadbuster Transforms into one of those nascar racing cars. While it has a sleek design, It fails into comparison with it's Human Alliance counterpart as well as the other nascar racers in the deluxe class (Topspin, etc). The Alt mode is a bit smaller than the other deluxe class TFTM and ROTF cars but its sleekness balances it out.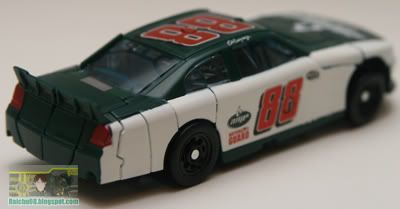 Weapons
One of the main gimmicks of the DOTM Line is the Mechtech Gimmick, with weapons able to be placed on both the Robot and Alt mode. With Roadbuster, it is a giant chainsaw which expands everytime you push the trigger. Yes, the weapon looks cool and all, but the problem here is unless you remove the spring, there is no way you can pose the figure with a full length chainsaw.
Another Problem with the mechtech is that it causes scratches in the paint job where the peg holes are located due to friction.
Articulation
Articulation is pretty basic, with a little bit of hindrance on the arms due to the door panels that prevents the shoulders and elbows from having a full range of motion.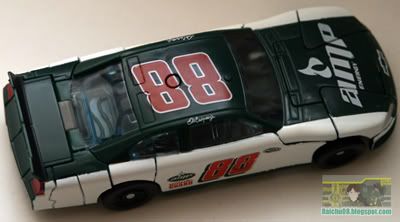 Overall
Topspin is a solid deluxe class figure, I'm a bit biased because of the color scheme and design but it really does hold its own. Just because it's one of the hyped releases, don't expect too much other than what normal Deluxe class toys offer.
7.8/10