Filipinos who grew up in the 80s and early 90s will certainly remeber Choudenshi Bioman. The show ruled saturday afternoons at the 80s in ABS CBN and Sunday mornings at the 90s in IBC 13. As you can see, before the Power Rangers corrupted the minds of the youth, Super Sentai Ruled the country with titles like Goranger (RPN), Bioman (ABS/IBC), Maskman (ABS/IBC), Fiveman (TV5/JackTV), Jetman(RPN) Turboranger (IBC) and Jetman (RPN).
More than 2 decades after Bioman was shown, The actor Ryosuke Sakamoto will be back to reprise his role Shirou Gou/Red 1/ Kenny in the Movie Gokaiger Goseiger Super Sentai 199 Hero Great Battle.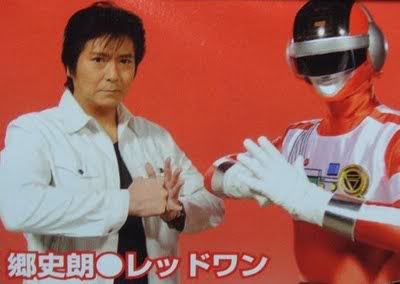 Pinoys will definetely like this nostalgia as this is the 2nd hero to make a comeback, One being Robert Akizuki (Kotaro Minami)/ Masked Rider Black reprising his role in Kamen Rider Decade back in 2009-10.
Gokaiger's 199 hero special is currently being shown at theaters in Japan.