If you've watched this year's superbowl, you might have noticed Packer's Quarterback Aaron Rodgers celebrating the super bowl victory with the world heavyweight title. Even back in 2005, Rasheed Wallace used to bring the world heavyweight title during games as if they're defending it.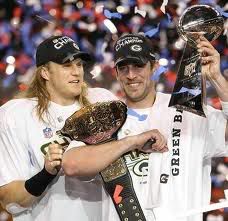 Fast forward to 2011, Brendan Haywood took it one step further. With the WWE title and the Mavs logo on it.
As much as I don't want to jinx it, but the bruins logo would definetely look good in that.