I first saw this jersey during the attitude era run of Degeneration X
So yeah, I was a Kid then I didn't have the means to afford that, When we visited the now defunct WWF New York in 2000, there was no stock of that said Item, I thought all hope was gone in acquiring it.
Luckily in 2006, DX got reincarnated and so does the merchandise, The Football jersey was retro-ed and I got one thru wweshop.com. Here's how it turned out.
Through the 2006 incarnation of DX, they wore this jersey twice during their feud with the Rated RKO.
Differences from the Original:
Despite the Reissue, there were things that are missing from the 1998 version. First was the "De Generate" at the back of the Jersey above the number 69. This was probably because the personalized jersey was not so prevalent in that decade. During the 2006-07 run, Hunter and Shawn wore customized versions of this Jersey with HHH and HBK written at the back. Next was the Missing woven Jock tag that was available in the 1998 version.
Print:
It is your regular rubberized print, no stiching and cutout here. Which is rightfully so since the WWE jerseys are usually heavy on the print. Suck it DX written on the front while #69 is at the back. The DX logo is on the sleeves as well.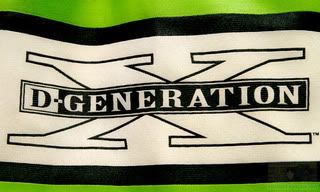 Fabric
There are 2 types of fabric that are present. The shiny Tryfit silk is used in the sleeves and the upper back portion. While the mesh is used at the torso area.
Overall, The original was much better print/ design wise but with its scarcity, the re-released 2006 version is a good alternative.