Ever since the 80s, WWE memorabillia, especially apparel have come and go in the Philippines. My first encounter of such was back in 1995 when I got a kid's size British Bulldog tee from the Araneta Colliseum for WWF's Mayhem in Manila house show.
After which, WWF shirts again went out of circulation until the late 90s at the boom of the Attitude Era. Specialty shops in greenhills were selling them for a thousand bucks per shirt. This however, was the start of bootleg shirts in the wwe market as fake shirts of DX, The rock, Taker, Kane, Austin and the others reached your neighborhood sidewalk shop for 180-200 bucks a piece.
A trip to the WWF New York Bar and shop back in 2000 got me exposed again to the merchandise with Jerseys, Shirts and other memorabilia available. I remember spending over a hundred bucks at one go, which was big money back then (4,000 pesos) for a High school kid.
As WWE went out of Star Sports' programming lineup, the fan base and production of the shirts was again halted from 2001-2005. It was only brought back in in 2006, years after Solar started broadcasting WWE shows again and in anticipation of the 2 house shows that year. The merchandise continued to be available to the market until 07, when "licensing issues" were cancelled.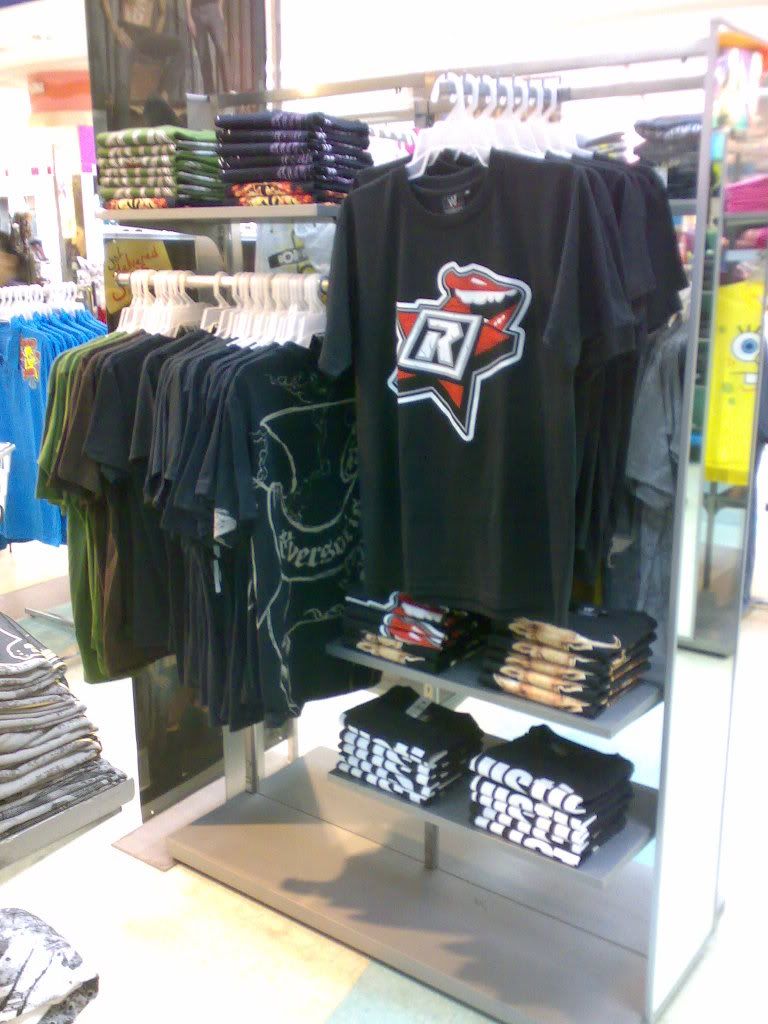 2009 Saw a mild reawakening of WWE merchandise as a house show was again slated for the Araneta Coliseum. Official WWE merchandise were once again sold at the venue. The shirts were sold at 900 pesos each and were the exact ones sold and worn by the superstars, however, those designs were 1 season late. Surplus from the event were sold at department stores for 500 pesos each but was only up to medium size.
Now, 2011 WWE Shirts are finally back at the Philippines, It seems someone has obtained the license to manufacture the shirts. They are now available at SM department stores teen section at a very affordable price of 300 pesos each.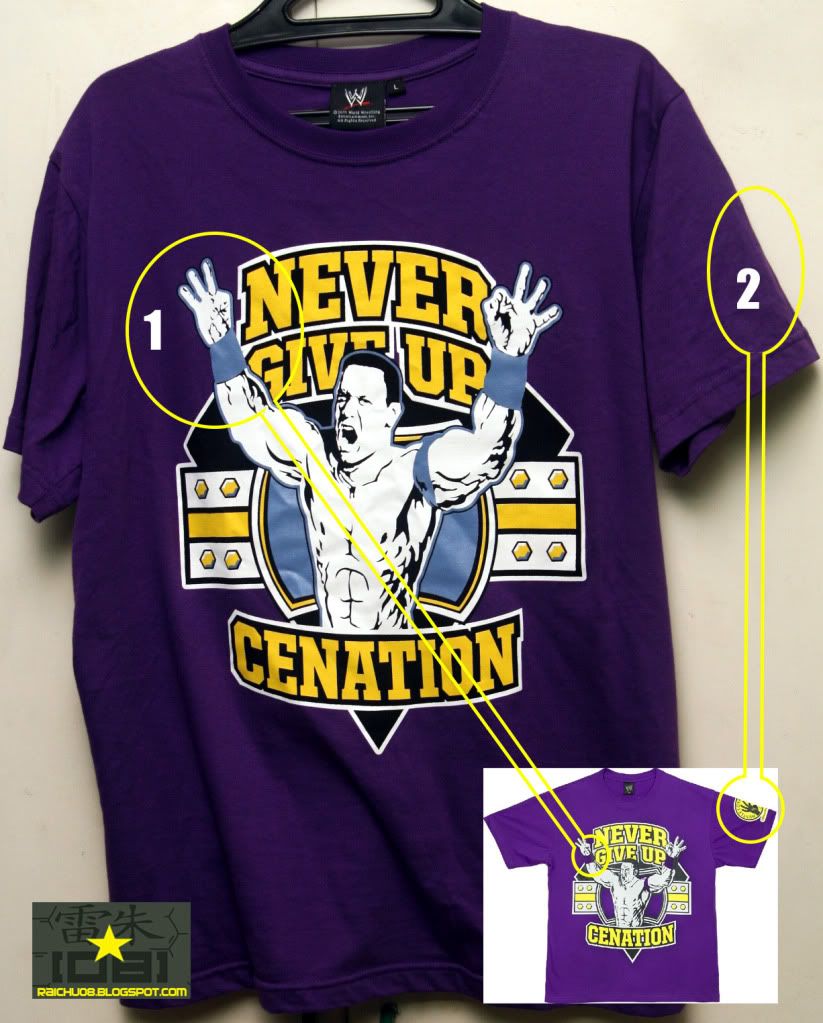 However, you get what you pay for. 300 Phl Pesos (US$7.00) is way less compared to the 25$ retail price sold at the web therefore, several changes are seen from the original design. For example, this "fruity pebble Cenation" shirt contains a lot of differences. Seen above (1) the locally released shirt contains a light blue color as compared to the original purple armbands. Another concern is the missing HLR logo located at the sleeve of the shirt..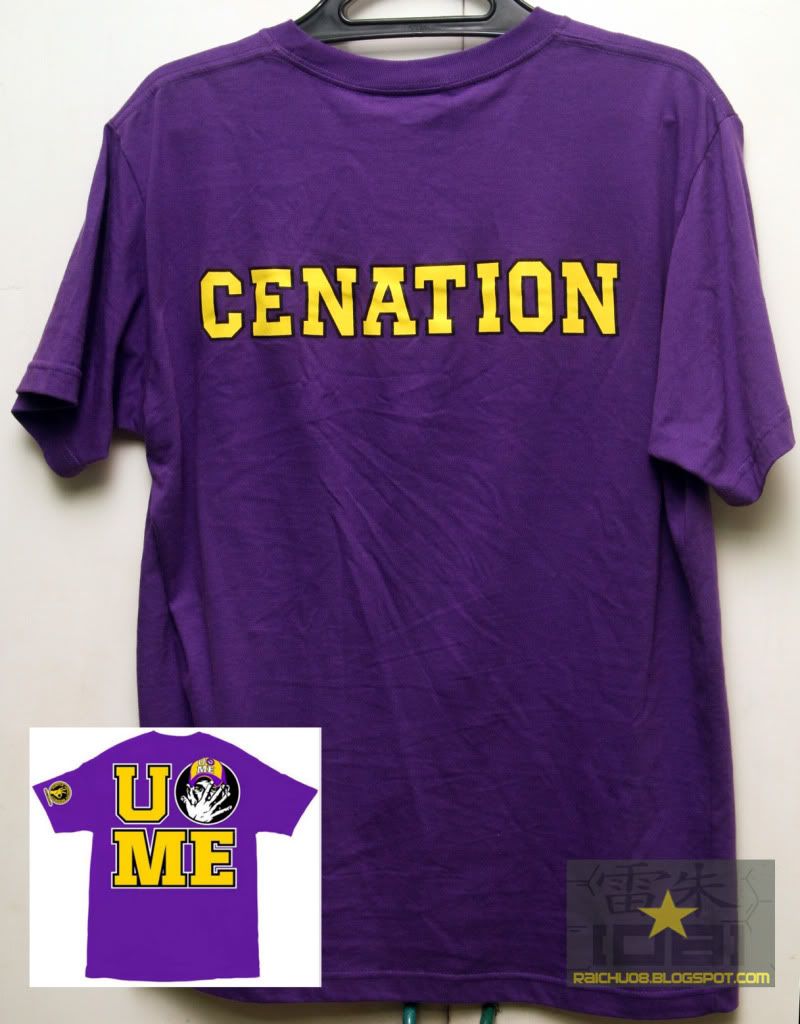 The back design is WAY different as well.
But all in all, with all the things considered (70% cheaper than the original price, a real "licensed product") who's complaining? at least we can finally obtain some of the old shirt designs without the hassle of importation and greedy "crocodiles" clad in barong tagalog.