The Converse Defcon is the main line for Cons' 2011-12 basketball campaign. Last year's campaign which consisted of the Sicks Mid and Star Player EVO, launched at the 2010 world basketball festival was mildly successful at best. Mainly through the efforts of JJ Barea's finals run. This year, the brand would try to make another bid at the shoe game with the
Pro Leather 2k11
and their flagship model for this year, the Defcon.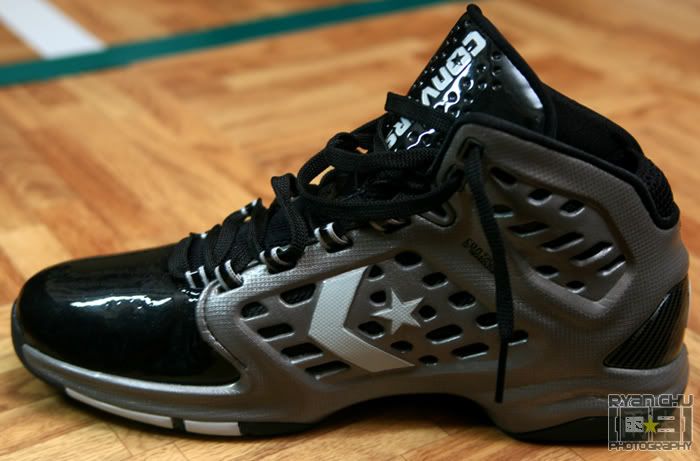 The Look
The Defcon is as modern as it gets, devoid of its past traditional basketball look. The shoe looks like it was mainly built with 1 solid piece of rubber based vamp, slapped with a bit of patent leather in the toe area. The patent leather runs up to the tounge area of the shoe. The particular gunmetal colorway makes it look like an armored van, or a mech inspired shoe as the textured and perforated rubber piece in gunmetal looks like an slap on armor. Aside from the vamp , patent leather toebox and perforations, the shoe contains a mini window to view the balls or CBT midsole.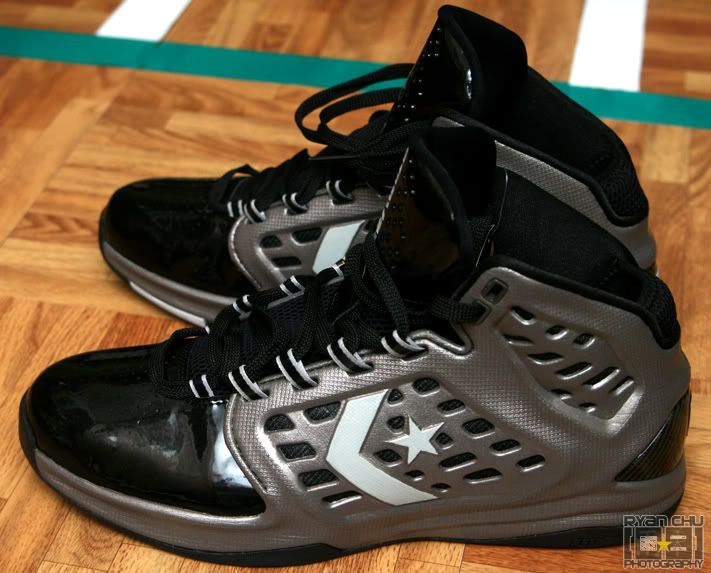 Colors
The Defcon's US release lineups was done in a plethora of team colors as well as black with accents of neon green, yellow and orange, respectively. The Philippine release on the other hand was limited to 2 colorways, gunmetal and varsity red. What works for the gunmetal scheme is that it's neutrality mixes with most jersey colors, particularly those with accent colors of black.
Performance
Due to the balls technology, the Defcon's traction enables for a more on court feel, beaning traction while running, sprinting and stopping remains the same. Contrary to the bulky impression of the shoe, it can withstand a full run and gun game.The contain technology helps protect the ankle and make it stable while grabbing those rebounds and blocking those shots. I had a week's run in of pick up games wearing the Defcon, It works for a defensive center with a not so completely healed left ankle. The CONtain fitting system does work.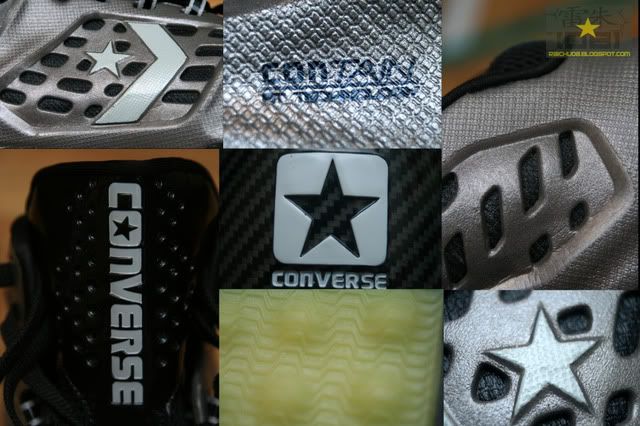 A Close up look
A view of the sole,
The Lacing system
The Defcon is now available in selected Converse outlets and leading department stores through the metro for 5,750 php. Available Philippine Colorways are varsity red and gunmetal.