Don't you get pissed when every time the Olympics are being shown, we always end up with a big fat zero? Pseudo "Internet Coaches" would rather turn and discriminate our own athletes as laughing stocks while drooling over the Nadals, the Phelps and the Bryants?. Or how about when going to a mall and seeing people in jerseys of other countries rather than ours.
How about being a weekend warrior and seeing all those folks in the gym wearing the latest equipment, going to a Saturday basketball game with your teammates repping the freshest limited edition PE kicks they camped five days and four nights for. Or in a bright Sunday morning when you are about to have another half marathon equipped with your minimalist shoes and compression tights while you grace away onto your new PR. It sure is more inspiring to perform when you got the gear, support and encouragement right?
Wouldn't it be as fun if our national athletes got even a quarter of that support?
Suntok ginto is a fund raising campaign to help our national boxers get that Elusive Olympic Gold. Sure we had our opportunities to have it (If Onyok and Villanueva wasn't robbed, If the Wushu event in Beijing wasn't a demonstration sport and if Victoria Manalo- Draves was still a Filipino citizen when she won those 2 golds). But the past is gone and all we can do is help the present (and the future).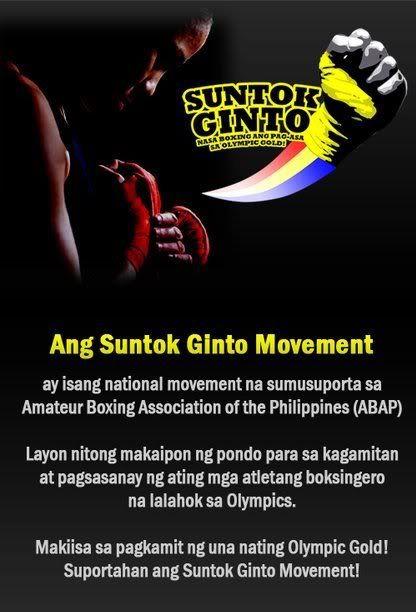 To learn about suntok ginto, visit their FB page here:
http://www.facebook.com/#!/suntokgintomovement