People buy/ collect figures and memorabillia because they like a certain character and would like to have a representation of it. But once in a while, there are some figures that even when you have no idea about it, its so cool that you'd want to get it and just backread about the character later. That's the case for me with Figma Drossel.
The 19th Lord of Uranos' Kingdom's Tempest Domain, Drossel Juno Vierzehntes Heizregister Fürstin von Flügel is the main character from Disney channel and Toei's collaboration series: Fireball. The series ran for 13 one and a half minute episodes.


The box is your typical figma box design, with a Disney channel logo on the front and has Drossel's patterns over certain parts. It is also a tad wider than normal figma boxes because of its big extra accessories.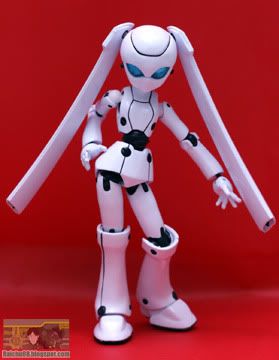 Articulation is great, Drossel can be posed in any physical possible way. At first hough, you need to be careful since joints would have the tendency of being stiff and have a high rist of breaking. But if you got over that and had it a little bit loosened up, it would be ok.




To add, there seems to be a need of care though when it comes to the wrists as this area is fragile and some acquaintances had already broken theirs. I'd also warn you with the shoulder joints. these arent directly noticeable, but they are very stiff.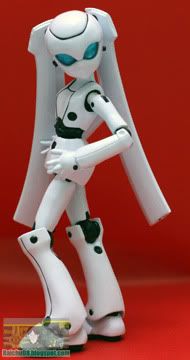 Paintjob wise, drossel stands out with a glossy white look similar to the CGI anime. details from panel lines to rivets are shown well and is accented by the clear/metallic blue eyes.






Accessories wise, Drossel comes with 3 extra accessories and a stand. the first is a jet pack which drossel originally thought to be a fashion accessory. Characterized as a pair of big buns with hidden jetpacks.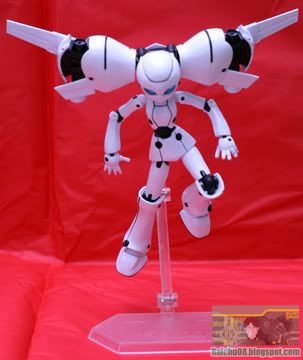 The next one is similar to what kung fu girls or even princess leia would wear. Drossel uses this when performing capoiera (which she refers to as karate).




The last one is an encyclopedia/ Anthropology book about humans.




Aside from the 3 main acessories, miku comes with 4 extra set of hands. A visible problem is that the hands do not fit within the Extra hand holder alloted to figma figures. Some of them quickly falls off.

Drossel also looks like another familiar character, Sari from the transformers animated series. Here is drossel digibashed by yours truly to be sari.




And also, as the obvious, big similarities with miku hatsune (or in the pic, miku kagami).




Overall, it is one of the best figmas out there. Despite its minimal set of flaws, you should really get one.

10/10