I got this back when the Azkals got to qualify for the Suzuki cup, way before they got the historic win over Vietnam that pushed them towards the mainstream. From what I heard, during the match against indonesia at the semi finals, Almost all the stocks were wiped out at the mizuno stores except for the kids sizes. So, for those who are asking or have the intent to ask about the availability, Please just wait for Mizuno to release the 2011 version.
Fabric
What I really like about Mizuno is the way they patent their fabrics. The white moisture wicking fabric on their jersey has a special corrugated texture. On the other hand, the light azure blue is unique on mizuno's part. Covering the air cooled portion of the kit.
Design

On the Sleeve Bears the National flag of the Philippines. Mind you, this was not visible on the AFF Suzuki Cup since the Tournament logo was placed on the sleeve instead of the Flag. The Front design (which IIRC was the winning entry from their kit design contest) bears a rectangular pattern of red and blue, similar to the flag, but with a streak of yellow on the middle. The Bar ends with the Philippine Football Federation logo embroidered on it. As for the Sleeves, The regular version with the flag on the sleeve would then appear on Mizuno Ads and the AFC Challenge cup qualifiers versus Mongolia. Mizuno's Trademark patterns complete the print on the upper side of the sleeves.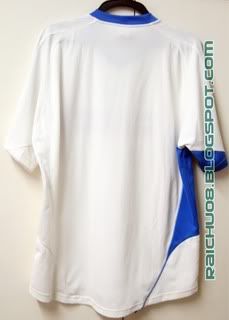 In conclusion, Futbol kits are at best when they can dully represent the team's Identity. From Portugal's Red and Green lines, to Brazil's Yellow-Green Combination to name a few. Mizuno, and the contest winner really did a good job designing the 2010 kit, and it made the Azkals proud in the international competitions. Moreover, they proved a point that you don't have to be one of the world's premier sporting brands (Swoosh, Trefoil) to create a nice athletic uniform. Honestly, I like this more than the 2011 version.