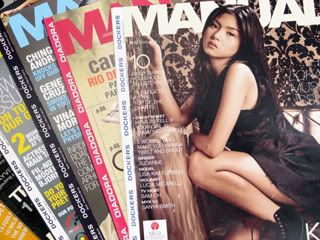 I admit that I'm not a fan of books. I do read some but I'm more of a visual person. Comics, mangas, Art books, Websites, blogs and magazines are more of my thing. While I get most of my stuff and information on the web, Magazines still add a lot of influence to me. Printed media usually usually containing the topics the normal male would read. Throw in some sports magazines, some men's health, some fudge even some fhm/uno/maxim. All is a part of a man's normal routine. Throw in a couple of geekiness with HK Model world and Dengeki hobby which I buy a lot especially when in abroad.
Around 5 years or so, when I discovered mega's manual magazine. I was curious of it at first and I started to get the back issues to see if the content was okay. Well, It had everything I needed for a typical male oriented magazine. Some inspirational and motivating stories, tips on careers, How to dress up presentably without being gay, pics of women, and more women, A touch of geekiness and of course, Sports (even though it was usually written by a very annoying laker fan).
The Magazine was of big help. Since then, I buy the magazine regularly. And for a college kid who usually waits for these stuff to go on sale before I buy them, it was a big thing. 2006 was their best run. I was buying their mags the first time I saw the new issue came out.
A few years onward, the publication had more of a homey feel to me. I get my comments published on the magazine and had some aquaintances as well (a friend and a former proffesor became an associate editor and a contributor respectively) which encouraged me to put my inputs more freely. From Praising their best issue to dissing the washed up hag in their worst issue. I was there. The magazines also helped me encourage to dabble onto photography
Though the last few issues sadly has tilted over to be too metrosexual to handle, It kinda drifted away from the old magazine's spirit. Too much of the common stuff. Too much eco drama, too much of the blogging hype, too much gimmick and less on the empowerment side. I kinda missed out on the old stuff. But time passed by and last I heard, the publication got cancelled. I kind of missed on the past 2 issues but I never thought it was their last.
So finally, there was it. Thank you Manual for helping us in the past 5 years or so. It was a good run. The magazine may be gone, but the help and information will remain. These paperbacks will be a part of my collection for keeps.