Disney is one of those who does cross overs with a lot of other franchises. It can be in a form of a Film (who framed roger rabbit w/ looney tunes) or with toys (the recently failed transformers crossover Mickey mouse prime) and sometimes, video games.
Kingdom hearts is one heck of a crossover. Like Marvel VS Capcom and the recently released Mortal Kombat vs DC, Crossovers between 2 Major Franchises are either make or break. Disney partnered with RPG Giant Squaresoft for this massive game where the disney franchise joins the final fantasy franchise to destroy the heartless.
King Mickey is supposedly one of the major characters in the game and the disney franchise. But has limited airtime within the game. Probably in the final scenes but not that much through the course of the game. That is why it was a bit of a surprise that he was released as to other characters with more airtime (Kairi, Goofy and Donald). But then again, mickey mouse is one of the biggest household names in history, so for square enix mickey is a win-win production.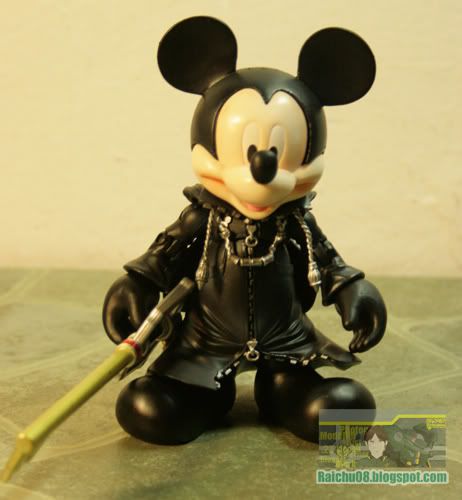 King Mickey for a play arts is a bit of a disappointment. Though he comes in at 14 cm tall, Which is ok since he is really small unless he's a mascot at disneyland. He has 12 points of articulation which is kinda lacking for a play arts figure and he is drabbed in a very cool looking organization coat. But the downside here is that it hinders most articulation in the body.
His facial expression is a smile, which is kinda disturbing even for mickey mouse since he is a warrior king in kingdom hearts. With such a small figure without a stand, square enix could have just given an articulation in the mouth, or at least a swappable head with a more serious look (if revoltech organic can do it, why cant they?). Also, he has a very big nose which hinders his eye vision. I compared him with other mickey mouse merchandise and they have his nose tilted more forward so they can see his eyes. King mickey's nose is tilted more upward.
Now comes the accessories. He comes with a Keyblade and 2 hands. That's it. That's the disappointment in this figure. A small figure with little extras. Not even a stand.
That's all for this review, basically a cool figure and could've been great yet failed to live up on its expectations.
Pros
Cool sculpt (It's Playarts!)
Coat looks Cool
Nice Rendition of a timeless character
Cons
Few Articulation due to the coat
Pointy nose
Smiling Face