You may (or probably haven't) seen this diorama in the recently concluded Toycon 2016. A Star Wars diorama based on its Meisho movie realization line which pays homage to the old Japanese films the saga was based upon.
After 9 long years, I was finally able to get my third Diorama first place award from the said event thanks to this diorama and the words of encouragement of some friends.
The diorama depicts young Luke Skywalker confronting his father Darth Vader on their own turf. Pretty much what happened at Return of the Jedi but I gave Luke his iconic tatoine color scheme to fit more with the diorama and prevent color clashing. More pics after the jump.
The core diorama, made last February
Back in February, I was able to build a small scale shrine to hold the Movie Realization figures. After the initial plan for my toycon entry has failed (too small, effect parts hard to acquire) with time running out, I was able to give the diorama a second look and improve upon by adding roofing, additional panels and a foreground.
The statue pillar
The first expansion came with the shrines left and right the idea was inspired by Akasaka Kanon temple back in Tokyo where there are statues left and right. With the lack of available mini statues in the Philippines, I turned to the nearest alternative available. Takeya's revoltech shinto buddhist statues. Having the same designer certainly helped the theme of the diorama. Jikokuten and Komokuten The side panels were then given semi transluscent backdrops, acrylic front covers and a spotlight.
Jikokuten, Guardian of the east.
Komokuten, Guardian of the west.
Semi Terracota style roofings were added using craft woods bought at local hardware shops.
The Samurai Luke figure
Since there are far too few figures in the Meisho SW line and a few of them being P-Bandai exclusives, the idea of customizing was not far behind. An old Kenshin toycom yamato figure was used as a base for the Luke figure. The sword has been modified to look more like a light saber and the sheath was reduced to one.
Sashimono flags bearing the characters for "empire" were placed on the sides while a Torii gate was placed in the front to add more depth. Two oil burners are placed in the front to add some smoke/fire effect.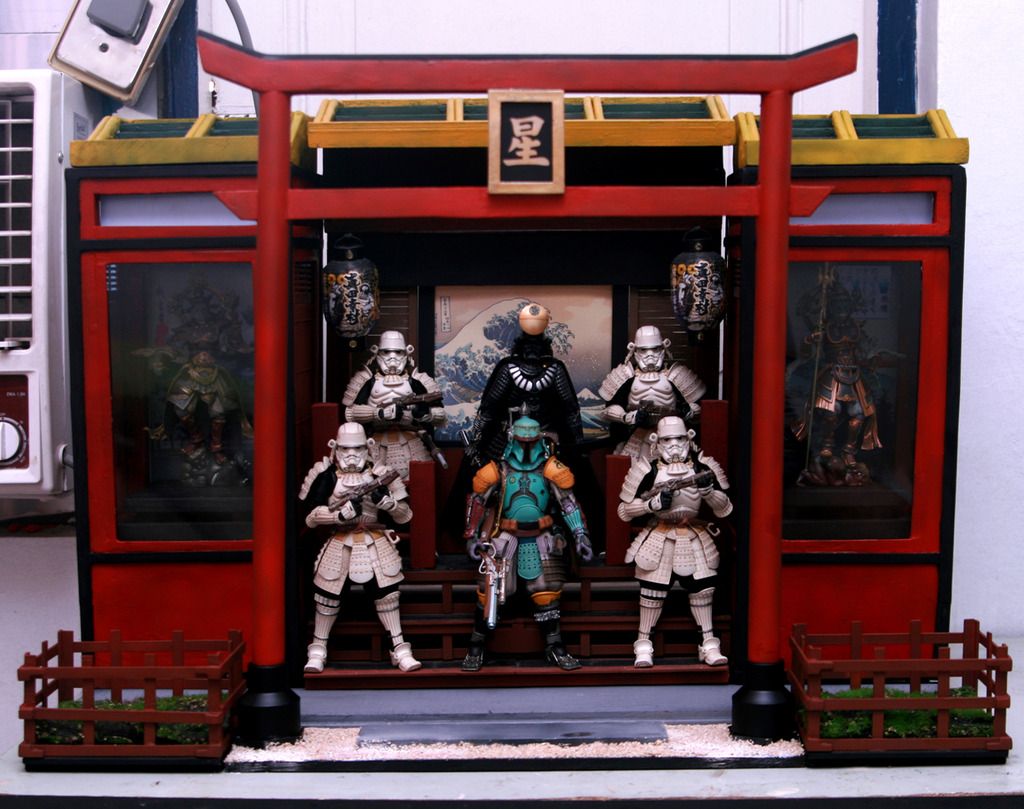 WIP shot
The Torii gate was inspired by the mini torii gates they sell at Kyoto's Inari shrine. I was able to buy a small one as a souvenir but unfortunately not big enough to be on scale with 6" and 7" figures due to lack of baggage space. It did become a basis for making a bigger one for the diorama.